SOCIAL/FUN/FUNDS
The social element of Biddenden Bowls Club is a really important part of our activities. Watch this space for details of a range of events both at the club and other venues.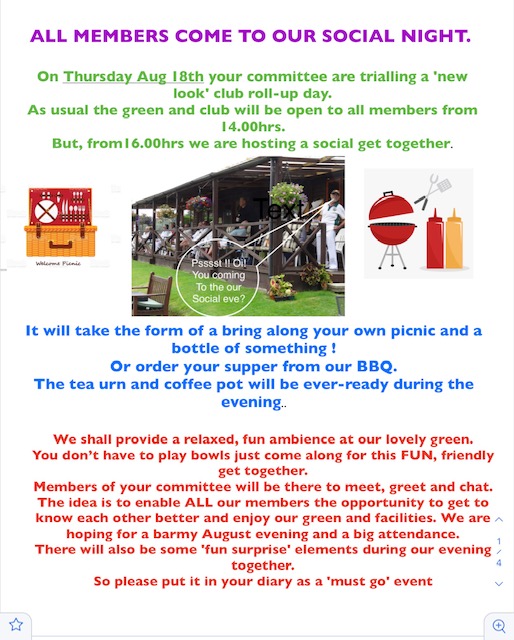 Fish and Chip Supper with Horse Racing - Saturday 14th March 2020 - doors open 6.45pm with first race 7pm and fish and chips between 8 and 8.30pm
The fish and chip supper went ahead on the 14th March with 60 members, friends and family attending. It was a fun evening. The fish and chips were tasty, the beer wine and soft drinks flowed from the bar (run by Brian and Jim) and the 8 horse races resulted in winning owners and punters and of course sadly a few losers. Paul, Jeannette and Denise did an excellent job on the tote. It really was a great atmosphere and the real bonus is that we raised over £700. Thanks to all who came along and also those who could not come but supported the evening.
We realise that for most of us this was the last social event for a while so pleased it was a good one!!!
POSTPONED -Pre-Season Meeting - Saturday 11th April 2020 - noon to 2pm
OFFICIAL OPENING OF THE NEW TOILET BLOCK AT 1PM
This is a get together for members (playing and social) to meet up and enjoy a glass of wine or cup of tea and nibbles. It is a time to talk about the new season, put names up for league game availability, put up names for early season friendlies, help fill the tea rota and the cleaning rota, find out what has been happening on the green and discuss the club competitions.
This year we will be having the official opening of our new toilet block including our accessible toilet, cleaning cupboard and store.
POSTPONED -Open Afternoon - Sunday 26th April 2020 - 2pm to 4pm
This is the day when we hope to welcome lots of potential new members to the green. Visitors will be encouraged to have a bowl and meet and chat with members to find out about the club. Wine and cheese will be available. The day will be followed up with 4 beginners coaching sessions to help new bowlers get the basic skills and confidence to allow them to quickly play in friendly matches and club competitions. A good turnout of members is important to help with the bowling and chat with those who come along.
The Day will be advertised in a variety of ways and we would ask all members to encourage any interested friends to come along and "have a go".